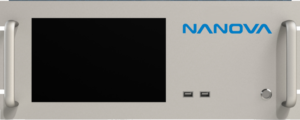 NovaTest W1000 Online VOC Monitor (Alpha)
Online GC for Continuous VOC Monitoring in Water
P/N: PT3A
Description: NovaTest W1000 (alpha) is an online solution for continuous water quality monitoring. Rapid analysis detects complex volatile organic compounds (VOCs) and some volatile inorganic compounds with high sensitivities. The contained, temperature controlled structure is designed to be accurate and reliable under any condition, and the standard chassis is adaptable to most existing air monitoring stations.
STANDARD SIZE: W1000 is built on a standard-sized chassis, making it adaptable to most existing air monitoring stations.
BUILT-IN PC WITH ONLINE CAPABILITIES: W1000 contains an integrated PC and screen. The system can be connected to a network for continuous, unattended monitoring. Users can start tests and view results remotely, making air quality monitoring more convenient and reliable.
AUTOMATIC CALIBRATION & TESTING SAMPLING: Once installed, W1000 automatically pumps in the water sample at a specified interval, self-calibrate with specified frequency. A user does not need additional accessories or to manually inject samples.
CONTINUOUS MONITORING: The built-in methods have target compounds' information and programming parameters pre-determined, eliminating the need for user input. Sampling times, wait times, and sampling intervals can also be programmed in advance, allowing the system to run continuously with unattended monitoring.
INSTANT REPORT: The instant report with calculated results generated by the W1000 from any test saves its user considerable time in data analysis. The report from a built-in method also calculates the concentrations of the targeted compounds. A report is immediately ready for printing and is saved for future reference.
POWERFUL: W1000 detects the compounds with a PID (photo-ionization detector) and has a detection limit of sub-ppb (for benzene). The FWHMs of most substances is less than 5 seconds.
RAPID: W1000 shortens the analysis time from the tens of minutes of the traditional GC to only several minutes. It well separates BTEX in less than 3 min.
TEMPERATURE CONTROLLED: Temperature controlled enclosures suppress retention time draft and ensure accurate results under any conditions.
Product Name: NovaTest P300 integrated compact GC
Analysis System: Gas chromatograph
Detector: PID
Dimension: 19 x 13.75 x 7.5 in
Weight: 22 lb
Carrier Gas: Helium, ≥ 99.5%
PC: Built-in 10 in touch screen
Power Supply: Built-in battery or external power outlet
Lower Detection Limit: < 1 ppb (Benzene) Power Input: 100 V ~ 240 V AC, 50 ~ 60 Hz Theoretically Detectable Compounds: VOCs and some inorganic volatile compounds with ionization potential less than 10.6 eV. Platforms: NovaSoft W1000
ASK A QUESTION
Didn't find what you want? Leave us a message and we will reply back to you very soon! Ads are strictly prohibited.