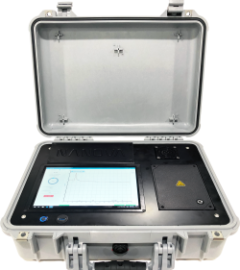 NovaTest P300 Integrated Compact GC (Beta)
For Quick & Convinient VOC Screening in Fields
P/N: PT2A
Description: A compact GC with integrated touch screen computer. NovaTest P300 makes it possible to sample, analyze, and view results all within one unit. It is designed for convenient and rapid tests of complex volatile organic compounds (VOCs) and some volatile inorganic compounds with high sensitivities. The contained structure and temperature-controlled enclosures make it more stable and reliable under any conditions.
BUILT-IN PC: P300 contains an integrated PC and screen. No additional equipment is needed to run the system or view results. The entire unit is contained in an easy-to-carry case.
TEMPERATURE CONTROLLED: Temperature controlled enclosures suppress retention time draft and ensure accurate results under any conditions.
WATER-PROOF & DUST-PROOF ENCLOSURE: P300 is a contained system designed to be water-proof and dust-proof to eliminate contamination.
FLEXIBILE: There are 2 operation modes available – quick test with minimum parameter input and a traditional test with every parameter editable.
INSTANT REPORT: The instant report with calculated results generated by the P300 from any test saves its user considerable time in data analysis. The report from a built-in method also calculates the concentrations of the targeted compounds. A report is immediately ready for printing.
DIRECT SAMPLING: When testing gaseous samples in a field, the P300 pumps in its surrounding air automatically. A user does not need to bring additional accessories or to manually inject samples
MINIMUM USER INPUT: The built-in methods have target compounds' information and programming parameters pre-determined. User will only need to input sampling time and wait time to start a test.
BUILT-IN BATTERY: The built-in battery can support 4+ hours of testing. There will be a notification when the battery needs charging.
POWERFUL: P300 detects the compounds with a PID (photo ionization detector) and has a detection limit of sub-ppb (for benzene). The FWHMs of most substances are less than 5 seconds.
RAPID: P300 shortens the analysis time from the tens of minutes of the traditional GC to only several minutes. It well separates BTEX in less than 3 min.
Product Name: NovaTest P300 integrated compact GC
Analysis System: Gas chromatograph
Detector: PID
Dimension: 47 x 35.7 x 17.6 cm
Weight: 10 kg
Carrier Gas: Helium, ≥ 99.5%
Column: Capillary column
Power Supply: Built-in battery or external power outlet
Lower Detection Limit: 4 hours or upgrade to > 8 hours)
Battery Power Output: 25.9 VDC
Theoretically Detectable Compounds: VOCs and some inorganic volatile compounds with ionization potential less than 10.6 eV.
Platforms: NovaSoft 1.0, NovaSoft 2.0
ASK A QUESTION
Didn't find what you want? Leave us a message and we will reply back to you very soon! Ads are strictly prohibited.